A S_mart new way of shopping
In Japan, there are about 700 districts without grocery stores within a 1 km radius, even in cities with a population density of over 3000/km2.
It is estimated that there are about 3 million people who have no access to supermarkets within a walking distance. This greatly affects the elderly population living in cities, where many of the local shops have closed over the past few decades.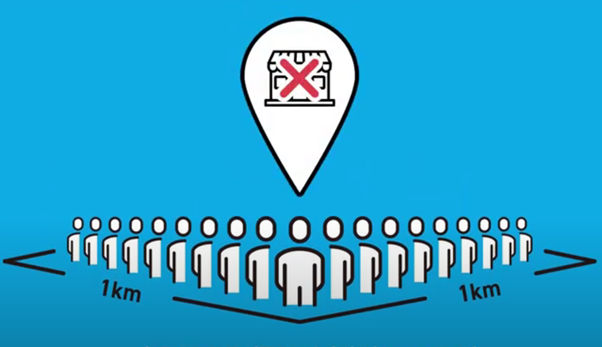 Done Science, Tokyo, is introducing S_mart platform that aims to bring great shopping experience to customers' proximity, while providing small and large retail supermarkets an innovative sales channel. S_mart aims to make shopping accessible to those who are unable to go out and shop, and to those who have difficulty using online stores.
S_mart is a SaaS solution targeted for the retail businesses such as supermarkets to open a "virtual store" with minimum upfront investment. Unlike typical e-commerce sites, S_mart brings a more immersive shopping experience. It uses a 75+ inch touch screen display as a "virtual shelf" to show the items in real-life sizes.  The shoppers can buy the items simply by touching the item images. Upon checkout, the shoppers have the options of delivery or pick-up at a preferred location.
S_mart allows retail shops of any size to offer "satellite shops" around existing stores to extend their coverage area to reach out to those who cannot come to the store.  A satellite shop can be opened anywhere with a small space as no storage space is necessary. For example, S_mart can be placed in the lobby of retirement homes where the residents can do their shopping while having a chat with others, giving them an experience that is different from online shopping. S_mart can also be placed in the entrance of the childcare facility to help parents do some shopping and purchases can be home delivered in the evening.
Shelf space is often an issue for supermarkets. Many products from small vendors do not make it to supermarkets due to lack of availability of shelf space. S_mart can be used in large supermarkets as virtual shelves to add effectively limitless shelf space to display more diverse set of products. 
Since the first press release in March 2021, different types of retail stores, such as CD/DVD, Comic/Manga retailers and supermarkets have shown interest on S_mart. Businesses are looking for different ways to approach and engage with their customers.
One might ask, why to use S_mart instead of shopping online? While online shopping plays an important role today, S_mart adds value to retail supermarkets through innovative user experience for the customers and addition of an innovative sales channel for the retailers. S_mart can be thought as a blend between online shopping and real shopping experience, hence, S_mart is categorized as a "Virtual Supermarket".
S_mart comes with a store management planogram web platform (Figure 2). A company manager is required to register the company to the S_mart manager platform. A manager can visually design the virtual shelves, manage products, pricing and promotional offers. The designed shelves, products or promotions can be scheduled to be published at specific times. In brief, S_mart manager is an advanced planogram platform that gives the company/store managers direct control of how the virtual shelves should be presented to the shoppers through the 75+ inch display (Figure 1).
AeonX contributed to the technical parts of S_mart, with the development of the S_mart client application and the S_mart manager web platform for the store manager. AeonX will continue to contribute to further development of S_mart, such as data analytics and AI assisted product arrangement in planograms.
S_mart is provided by Done Science co.,ltd (Tokyo). Founded in 1977, Done Science provides marketing solutions through various services such as product development,  promotion planning, market research and system development.
World Business Satellite (TV Tokyo)
How S_mart can touch people's lives
A demonstration experiment of S_mart was conducted in the suburbs of Tokyo. In this area, there are no grocery stores within walking distance. The purpose of the experiment was to observe how S_mart can be helpful for the elderly living alone.
S_mart was demonstrated at RETAILTECH JAPAN 2021 from March 9th to 12th 2021.
AeonX specializes in developing innovative software projects from conception stage to production. AeonX is skilled in three domains, innovative software development, Data Science (NLP and Predictive modeling) and Cryptography for highly secured data storage and exchange.